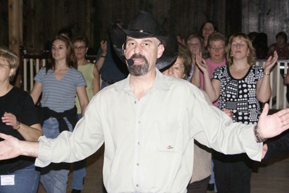 The Mishnock Barn is the best Country Western Dance Club in Rhode Island.

Dan and Kelly Albro invite you for a Line Dancin', Two Steppin', Foot Stompin', Good Time.
The Barn has 3 large floating dance floors. Dang near 3,000 square feet of foot stompin! hardwood floor.
Wear comfortable shoes that allow you to move around freely on the wooden dance floors. Sneakers, Sandals, FlipFlops and very High Heels may make dancing difficult.
Free WiFi is offered to our dance patrons.
Doors open @ 7:00pm
Cash Bar and ATM available on the premises.
"Band Night" 1st Thursday of every month, No Cover Charge.
Enjoy the Hottest!!! Couples and Line Dances around.

Got a favorite? Request it!